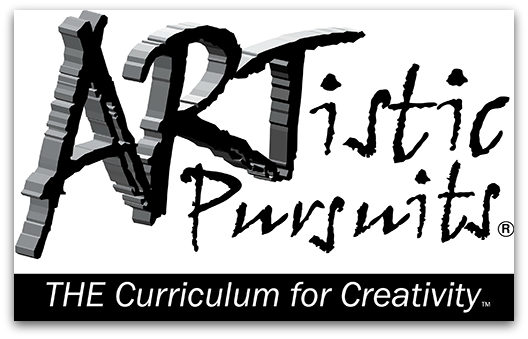 What is it?
This book is a 92 page soft cover book that is comb bound. It is a full year curriculum with a schedule laid out in the beginning of the book explaining that you could do 2 classes a week for 36 weeks (each class about an hour long). Or you could chose to modify it best to fit your homeschool. Also contained at the beginning of the book (as well as on their website for each book) is a list of art supplies for each semester so you know before even purchasing the book what you will need. The supplies for this book are easy to purchase and happen to be things we already had on hand from previous art classes.
The beauty of this curriculum is that the student can do it all on their own! Each of the 16 units contains 4 lessons focusing on:
Building a Visual Vocabulary- here they are encouraged to pay attention to the world around them and use their observations to come up with an art project.
Art Appreciation and Art History- students are given brief history lessons and show copies of artists drawing both in black and white and color.
Techniques- here they are taught about the materials and how to use them to create projects.
Application- this is the wrapping up part of each section where the students take all they have learned to do a final project.
Each lesson is clearly marked by a number and every lesson has a "try this" assignment that is marked in red making it easy for the student to follow along knowing where their assignment is at. Also scattered throughout the book are actual drawings from other students who did these lessons. It gives the students ideas of what the lessons can look like completed.
How we used it
My 9th grader couldn't wait to receive the book and as soon as she did, she paged through the whole thing. Since this review was just 6 weeks long, she picked out the lessons that interested her the most to start with. She would sit down for an afternoon of several hours pouring over several lessons while working on a project. This girl can get herself lost in art that's how much she enjoys it!
Her latest fascination is black and white sketches. While she perused a lot of the curriculum, she honed in on unit 14, proportions in the face. She's really been into sketching faces lately so she soaked up how this section explained drawing face in correct proportions. She also loved drawing different expressions.
Some of her other projects she completed:
We really enjoy ARTistic Pursuits style, very simple to pick up the book and go with no prep work once you have the art supplies. Their friendly conversational tone in the book makes the reading easy and engaging. Because it's non-consumable, you can use this with many children over the years. They have curriculum geared for preschoolers all the way through high school.
Connect with ARTistic Pursuits on: