I was recently given a subscription to
Schoolhouse Teachers
to try out. I didn't know much about this website except that it was a homeschooling resource. I just expected to see some print outs, some PDF files and maybe some resources. Boy was I in for treat! As I started perusing the site, I felt like a kid at Christmas as I opened up the different topics and subjects. I didn't know where to start to be honest as there is truly just so much! I saw there was
2 video site tours
that I figured I should watch and I'm glad I did. They briefly explained how to use the teacher lesson plans as well as the daily studies.
The website is very organized & simple to navigate. There are 4 main areas:
-Schoolhouse Teachers
-Schoolhouse Dailies
-Schoolhouse Extras
-Schoolhouse Library
What I found fascinating about the schoolhouse teachers section is that they have some of the biggest names in online and home education teaching in a variety of subjects all laid out for you. I don't know about other busy moms but I LOVE having a lesson placed in front of me with everything I need. All I have to focus on is the actual implementing and teaching part. Not only do they have all the work done saving me time, they also are available via email if we need any additional help or support. Some of the subjects currently listed under this section are:
-Career Exploration -Chemistry -College Choice Guidance
- Ecomonics
-Figures in History -Filmaking
-Geography -High School Math
-History
-Home Ec -Lapbooking -Literature
-Music -Reading Lessons -Special Needs
-Technology
-Writing
Schoolhouse Teachers.com has activities for Pre-K all the way up to high school. So there is something for everyone. One of my kids favorites has been the daily writing prompts. Every day there is a new idea for something to write about. Each of my kids has a journal that I like them to write in about whatever they want. Sometimes they are stumped about what to write so these daily writing prompts are great for their journaling. Each day they find it exciting to see what the new topic will be. For example, one from this past week was:
-
We all know that summer can sizzle as the temperature rises. Write about your favorite ways to stay cool when the weather turns hot.
The daily writing is just one example of what is under Schoolhouse Dailies. There are many other great areas covered (grammar, math, history just to name a few.) I love that there is something new to discover in this section Monday thru Friday saving me time by having it right there to use. The only thing I would change in this area would be to have the ability to look ahead a week or so to be able to plan rather than looking it up each day. A way to remedy this is to just go back a week and use the previous weeks "dailies" to be able to plan out a week at a time.
A few other highlights worth mentioning that are included is The Old Schoolhouse magazine. Not only the monthly edition but you have access to the older issues. (If you have a smartphone, there is also a free app you can use to access this.) There are also e-books, reading lists, MP3 recordings of the schoolhouse expo just to list a few examples.
BUT that isn't all! One of the best parts that are included with your membership is access to all 5 homeschool planners.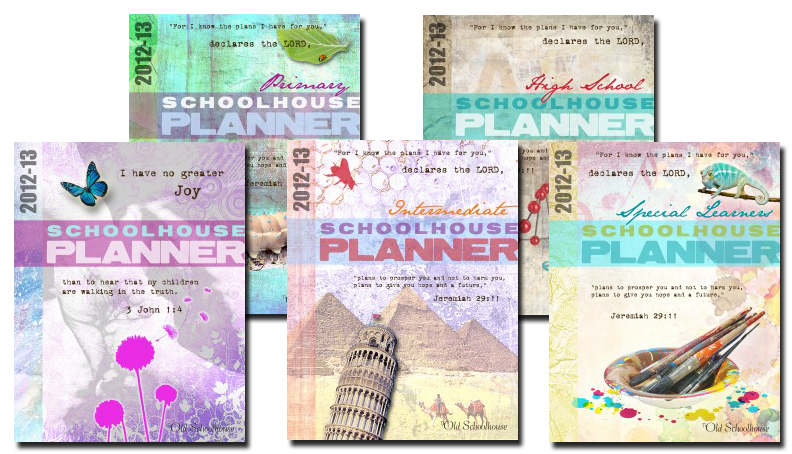 There is the "big momma" with over 800 pages. Just a few of the things you'll find in it are calendars, field trip log, even a meal planning area as well as a wealth of articles that I found very informative. There are also planners for special learners, primary, intermediate and high school. Each planner allows you to fully customize it by either typing into the planner on your computer and saving/printing it or you can just print it out plain and hand write on it. I loved the fact that one of the layouts on the main planner has a layout for 4 kids for each day which means I don't have to have 4 separate pages each day to write in. I can condense it and just need 1 page per school day.
Not only is a schoolhouse membership invaluable, it's very affordable! Your first month membership only costs $3 (yes you read that right) and each month after that is just $12.95 a month. I would encourage you to head over to their
sample pages
and take a look around. Give the first month a try since it only costs $3. I have no doubt you will love it as much as I have!

As a member of the Schoolhouse Review Crew, I received this product at no cost to me in exchange for my honest review. All opinions expressed are my own.