For those of you that know my husband in real life, you know he is known as the "weather guy" and everyone's personal meteorologist especially when winter weather is hanging in the air. He has a love of weather especially snow storms & tracking hurricanes and knows about them before most people even realize there is the potential of storms lurking.
Recently,
Homeschool Legacy
gave us the option of reviewing one of their ten
once-a-week unit studies
they have. As soon as I saw
Weather On the Move
, (which by the way looked like a lot of fun) I formed a plan in my head. This is a study my husband can do with the kids thus giving me a break!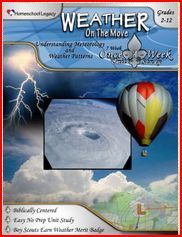 The beauty of this curriculum is that it is meant to take a break once a week from your regular textbooks and curriculum and change things up. Granted you don't have to do that, you could incorporate it in addition to what you are already doing. After all, isn't that what homeschooling is about, doing what works for YOUR family! This unit study not only covered the obvious science behind the weather, but also included history, geography, art, math, science experiments, devotions, family game and movie night, just to name a few.
What I appreciated was that Homeschool Legacy did all the leg work for you in organizing everything and spelling out what exactly you need to do. Even down to the book list! They not only have a list of books to go along with each chapter, they also included the card catalog number with each book. How's that for simplifying life for us busy moms! If you have a child working towards completing an American Girl Heritage or Boy Scouts merit badge, they can do that while working on this and some of the other unit studies.
The way everything was laid out made this easy for my husband to do with the kids. The kids would gather around my hubby to listen to the devotional and book we selected to read along with the lesson. When we started this review, hurricane Isaac was big in the news so he helped them track the hurricane on the map provided as well as showing them some of his resources online from other meteorologists.
My husbands thoughts on this curriculum are that he really enjoys it and finds it very comprehensive! In fact, he said there is so much info included that they could cover, he has been taking his time in completing this course. This unit study is set up to do in just 7 weeks but he wants to get in depth with them as well as incorporate his own resources. He is saving the Frozen Precipitation chapter for when we start getting snow. Great idea but this momma isn't wanting to think about snow already!
The kids really enjoyed the "Stump Your Dad Trivia" that is included in each chapter! They also found the experiments a lot fun and deemed them "cool". This unit study is geared towards grades 2-12. I love those types of studies where you can do it with ALL the kids no matter what age/grade. The price for
Weather On the Move
is $19.95 and is non-consumable. Check out the other
unit studies
listed on the left hand side of the page.

As a member of the TOS crew, this product was provided at no cost to me in exchange for an honest review. All opinions are my own.