Earlier this year, I shared with you all about
some products
I tried out from
Koru Naturals
that I absolutely loved. Recently, I was given a chance to try out and review some more of their naturals products. I received
Skin Clear Cream
,
Manuka Honey Propolis Soap
, and
Argan Oil and Sandalwood Hair Tonic
.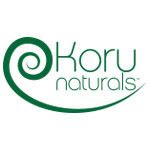 Koru Naturals is a New Zealand based company that provides a variety of hair care, skin care and general health items that are all derived from naturals products. Manuka honey for example were in 2 of the products I tried out.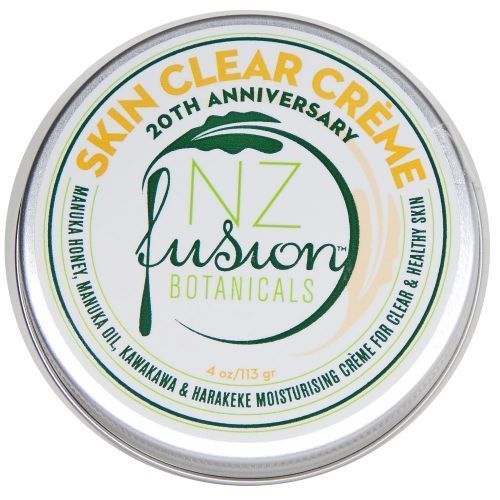 The Skin Clear Creme is geared towards those who are acne prone though it works as a great moisturizer even if you aren't. Some of the natural products in this creme are manuka honey, burdock root, thyme, kawakawa and harakeke (traditional Maori remedies for skin conditions). It is recommended that this product be used by kids 12 and older and that pregnant women abstain from using it due to one of the essential oils it contains.
The creme comes in a small container and when you open it, you'll find a lid on it with a small paddle which is used to scoop the creme out so you aren't having to put your fingers directly into the creme (and not introducing bacteria into it). It's suggested use is twice a day and a little of this creme goes a long way. My teen daughters were the ones who begged to use this creme for the review. They said they liked the feel of the creme and that it was fast absorbing and not greasy. Overall, they think it helped clear up some of the acne they were dealing with and plan to continue using it.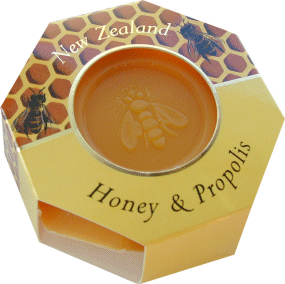 The Honey & Propolis soap has been one of my favorite products to try out. Even while still in the package, you can smell the sweet honey smell from the soap. Both honey & propolis are known to be skin moisturizers. Honey also has anti-bacterial affects and what better way to protect your skin than using a natural soap!
When taking the soap out of the package, you can see the 2 toned colors and that it is a large bar.
Not only do I enjoy the pleasant honey smell of this soap but I loved how it made my skin feel. My skin felt soft and silky after using it. I also used it as a face soap. It lathers up quite easily and this bar hasn't even looked like it has been used much even though I've used it almost everyday for the length of this review. So I have no doubt this bar will last a long time!
The Argan Oil and Sandalwood Hair Tonic is made up of a blend of essential oils to moisturizer and tame frizzy hair. It comes in a pump bottle making it easy to apply. The recommended amount to use is 2-3 drops for your hair (which means this bottle will last for a long time). I really enjoy the scent of the tonic as I love the smell of sandalwood essential oil.
My daughters and I all used this during the review and found it really works well to get rid of the frizzy hair. We used it on both wet & dry hair with the same results. Typically if we let our hair air dry, it would end up frizzy but if we applied a little bit of this tonic to damp hair, it dried without the frizz. Or if our hair was already dry, a few drops of this hair tonic made the frizzy's disappear! We simply put a few drops of the tonic into our palm, rubbed our hands together then ran our hands through our hair.
If you like using natural products for your skin & hair, check out all the different things
Koru Naturals
has to offer!
Connect with them on: