My children all love to color, paint and do crafts. A few years ago, we were introduced to a company called The Pencil Grip, Inc.. They have this awesome product called Kwik Stix that my children absolutely love. Recently we tried out Thin Stix Creativity Pack.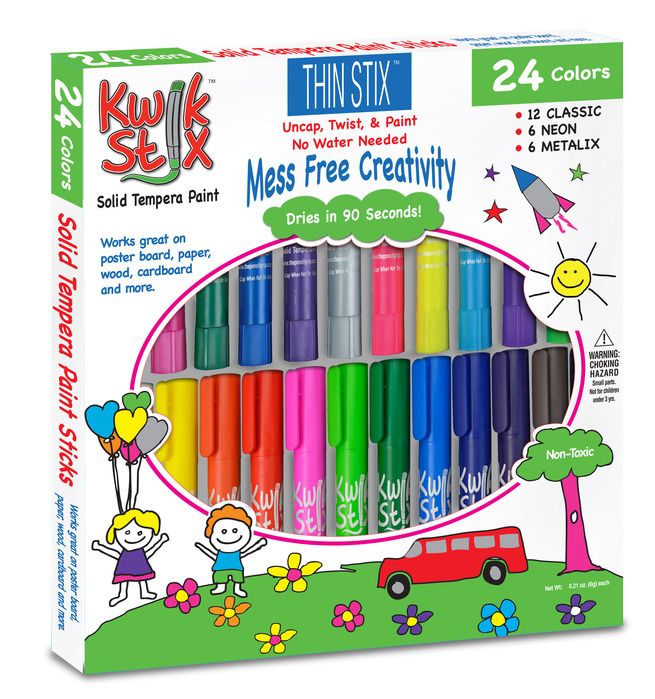 Kwik Stix offers a variety of products from their regular Kwik Stix which are shorter and chunkier to their Thin Stix which are a thinner option. They also offer a variety of colors. There are assorted colors as well as neon and metallic colors. The neon colors are just like they sound and what you would typically think of what bright neon looks like. The metallic colors have a neat shimmer to them. Both varieties are unique in the color they give.
The great thing about Kwik Stix is that there is no water needed to paint and the best part is that they dry in 90 seconds. The tempura paint is non-toxic and it is also egg, peanut, and gluten free. It wipes up easily off of skin. They are so easy to use, I even let my 19 month old color with them under my supervision.
We have done a variety of projects with Kwik Stix the last 2 years. Not only does this paint work on paper and poster board but we've painted rocks, wooden crafts and even hard boiled eggs for Easter!
Because this review was done during fall time, one of my younger children chose to color a pumpkin with the paint.
The Thin Stix allow you to color in smaller places compared to the regular stixs. Though I have to say, I would love if they came out with even a more finer point to do more detailed projects.
The paint glides on smoothly and you simply turn the dial on the bottom of the stix to simply advance more of the paint stick. I like the fact that my younger children can use these unsupervised and I don't have to worry about finding a mess when they are done.
With Christmas coming up, these would make a great gift for any child! I have to say, even though typically you think of paint like this being geared for younger children, my teens and their friends have been seen using these.
Another great idea for a birthday party would be to have some of the inexpensive wooden crafts for the kids to take home as party favors. With the variety pack we had, there was a total of 24 different colors.
The uses for Kwik Stix could be endless! This is one of those products we will always have around our house and we highly recommend to anyone.
Connect with The Pencil Grip, Inc. at: