Our family is big into music! If you stopped by our house at any given time, most likely you will hear music playing on either our stereo downstairs, the iHome upstairs or see one of the children with headphones on listening to their iPods. I can easily recall lyrics from songs I heard as a child so I was excited to review a set of songs from
Happy Kids Songs
.
We were given 3 volumes to review, totaling 15 songs:
-
Friends & Sharing
-
Manners & Character
-
Happiness & Attitude
In addition to the songs, we were also given
Happy Kids Songs Workbook
.
What is it?
Happy Kids Songs is the brainchild of psychologist & well known singer/songwriter "Dr Mac" aka Don MacMannis (hint, he's written the songs for
Jay Jay the Jet Plane
on PBS). He understands how important these early years are in forming our children's character and the importance music has in their lives.
Happy Kids Songs has a total of 8 downloadable volumes each containing 5 songs pertaining to a certain theme in each album. The albums include:
Friends & Sharing
Social Skills & Bullying
Feelings & Fears
Practice & Success
Talking & Listening
Manners & Character
Happiness & Attitude
Respect & Responsibility
Each theme addresses common issues our children face in their day to day life. The songs vary in the type of musical style and beat. They are sung by both adults and children and are quite honestly very catching in their tone, words and style. The songs are geared for children 3-8 but can easily be used for children younger & older than this age range.
How we used it:
The albums can be purchased & downloaded in their entirety or you can purchase each song individually. They were easy to download and once I downloaded them, I then burned them to a CD so we could listen to them anywhere. I also put them on our iPod as well. I played them while driving in the van as well as having the songs play as we went about our day. I have found that repetitively playing music has a way to ingrain itself in your mind which I think is the beauty of these albums. Before I knew it, my 3 year old was singing along and while she might not yet understand everything she is singing, it has presented an opportunity to teach her about what she is singing and the meaning behind the songs.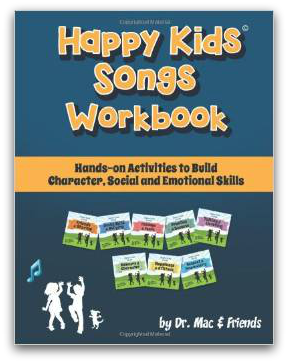 Not only are the songs a great tool in helping to instill character, you also have the option to download or purchase the physical
workbook
that accompanies all the albums. In the first part of the book, you are given the lyrics to each song (which comes in handy to make sure you are singing the correct lyrics!) as well as an activity page you can copy for your children to complete. While my 3 year old was a little young for some of these (like the crossword puzzles), I do plan to pull them back out when she is older to do. The back of the workbook contained ideas for activities to do to further enhance the learning of what each song teaches.
What we thought:
Overall, we enjoyed listening to these songs! We found them upbeat and catchy and had no problem learning the lyrics after listening multiple times. While these songs are secular based, you could tie them into a Bible lesson which is what we did since ultimately our approach to learning is based on the Bible. You can stop by
their website
to listen to samples of each song.
Happy Kids Songs
is $4.95 per album or $.99 per song download. The workbook can be downloaded for free to accompany your songs or purchased in its entirety for $12.95.