As we just started our 9th year of homeschooling, I've looked back evaluating how far we've come. One thing I wish I would've known with my older children is how I could've had a head start in homeschooling during the preschool years. Sure, they learned things but I can't say I was always intentional about it as I was just trying to keep my head above water. Enter
The Homegrown Preschooler: Teaching Your Kids in the Place They Live
from
Gryphon House
.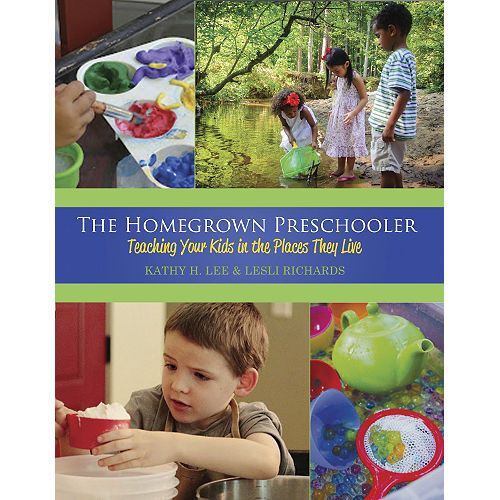 This is a 200 page softcover book by authors Kathy Lee & Lesli Richards who openly share their journey of homeschooling. They start off with an intro about themselves and why they chose to keep their kids at home. Between them, they have 12 children including adopted & special needs kiddos which they also share about in this book. The book contains not only chapters but snippets of ideas in the columns as well as many colored pictures throughout the book.
The 9 chapters include:
- Homeschooling- harvesting a bountiful life
-Learning through play
-Sowing the seeds-preschool learning
-Setting the stage
-Home life=learning- slow down and teach
-Who has time for this?
-Organizing it all
-Days and seasons that don't fit in the box
-Special circumstances
After the 9 chapters is a section of the book called "Activities" that contains a variety of ideas to incorporate learning with your preschooler. It covers learning through home life, science, gross motor & fine motor, math, language & emergent literacy, & art. There are silly songs, recipes for playdough and other sensory suggestions, field trip ideas, recipes for simple food your preschool can help you prepare, even instructions for making your own light table.
It's so easy to get caught up thinking that we need a formal curriculum for teaching our kids when in fact, it's quite the opposite. This book was a great reminder of that. Olivia is now counting to 8 because we are always counting out loud as we eat pieces of food, walk up steps, etc. Just to be clear, this book is not a workbook for your preschooler but a book of ideas for a parent to implement with your preschooler.
One of my favorite sections of the book was where they suggested the use of "novelty bins" and baggie-on-the-go ideas. A novelty bin is meant to pull out when you need to keep your preschooler busy while making a phone call or working on school with an older child (moon sand for example). The baggie on the go is a developmental activity you can grab to take with you on errands to occupy your preschooler (like pipe cleaners & beads). While Olivia is still pretty young as she only just turned 2, I plan to use many of the suggestions this book offers in the coming months.
Yes, many ideas in this book are simple things that as you read it you say to yourself "oh yeah, I forgot about that". But if you are like me, having a reference for ideas right at your fingertips is handy. Being a busy mom, it's so easy to overlook the youngest in the family though this book is a good tool for helping you be more intentional in incorporating learning through everyday activities. I look forward to taking the time to do more learning activities with her that I hadn't done with my older kids.