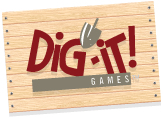 We were recently given the opportunity to review Mayan Mysteries from Dig-It Games on our iPad. My kids love being able to play games on there and I especially love when those games are also educational! It's a win-win in my book.

The basis of this game is to solve the mystery of figuring out who the thief is that is stealing artifacts from the Maya archeological sites. As you go through this game, you learn accurate historical facts about Mayan culture & customs, the Mayan calendar, visit different cities and learn facts about them, learn Mayan math, etc. This is done through comprehension questions, mapping, digging out of artifacts (and having to choose the correct tool to do this). Points are gained for correct answers as well as when you collect the different artifacts. Points are lost if you get answers wrong or break an artifact while trying to dig it out. At different times during the game, you are given different quizzes which if you fail it you are given another chance to try again.
There is a lot of reading in this game, probably more so than your typical iPad game. If you are worried about a struggling reader or have an auditory learner, there is a button you can press and the game will read it to you!!! My son appreciated that as he would rather listen to something than read it himself.
Like any iPad app, this was easy to download. When we started it, we had to kind of figure our way around the game to get started. I admit it took me a little bit to figure out how to use the archaeological tools, not so much using them but realizing I had to swipe my finger in the middle of the screen (we had been touching the tool in the upper left hand corner as it made motions when we did that). A few more descriptions on how to specifically do things throughout the game would've been helpful. One thing to note, this game can only be played by a single player. It can be reset to allow someone else to play. At times my kids played one at a time, other times they gathered together to work at it as a group. They were thankful that the game saves their progress and allowed them to pick back up where they left off. It should be noted once you reach the end of this game, you won't capture the thief as the game tells you there is a Mayan Mysteries 2 coming out. That was a little disappointing for the kids after all the work this game required. Especially for being an educational game I felt there should be some sort of reward for all they did to reach the end.
Overall, it was a good game chock full of facts and engaging graphics. You can check out
the demo
to see if this a fit for you. If you don't have an iPad, they also have this available to purchase as an online game. This app is geared for children ages 11+ and can be purchased in iTunes for $9.99.