Let's face it, there are a million and one things a busy mom needs to accomplish every day. One of those things is housework. If you are like me, I feel like I already make enough lists for homeschooling and many other life tasks, the last thing I want to do is come up with a house cleaning schedule. Enter
Motivated Moms
, a chore schedule that already has the work planned out for you! I recently had the chance to review
Motivated Moms iOS app
on my iphone (though it does come in a printed version as well).
What is Motivated Moms?
Simply put, this is an organized list of chores and tasks to complete. There are some tasks that are listed daily (such as change hand towels, make beds, etc) then there are specific tasks that are only completed on the day they are shown (wipe down lights, clean microwave, etc). The idea behind this system is to gradually clean areas of your home, rather than a huge cleaning spree or focusing on only one room at a time. The lists include chores that are both common as well as those tasks that are often overlooked in daily house cleaning. The best part is, these tasks are already thought out & planned for you, eliminating the need for you to come up with your own list!
How does this App work?
This app can be downloaded & the account can be logged in and shared across multiple devices. It's very simple to start using right after downloading as it can be used as is or you can fully customize the tasks. Are you one who likes to check things off as you get chores accomplished? Yup, you can still do that using the app! As you check mark off a task that is completed, it drops down to the bottom of the list.
Each task can be assigned to a person and each person can be assigned a color which makes glancing at the schedule very easy if you know what your color is. If your family doesn't all have their own apple devices, you can also email the schedule to your family members so they can easily see their assigned tasks. They could even print out their page if they wanted to!
If some of the pre-programmed tasks don't fit your family (say feeding the pets when you don't have any animals), you can easily go into the edit menu and choose to "hide" those tasks which aren't applicable. This is also where you can assign tasks or choose a certain room to assign the task under.
How we used it!
I went in and added my childrens names and assigned them each a color. From there, I would assign different chores as they popped up. After a while, they each got into a groove as to what their daily tasks were. Really, we found this an easy-to-use app! I just had to share my iphone with my kids so they could see what their daily chores were and check them off as they completed them as they all don't have an email account or apple device. Even though this is called "Motivated Moms", it really is for the whole family!
I have appreciated how slowly but surely the last 6 weeks we are starting to get different areas of the house deep cleaned without feeling like we are deep cleaning because we are tidying small areas one surface at a time! For example, every so often we are assigned a shelf of the fridge to clean rather than made to clean the entire fridge at once!
Motivated Moms
has helped me do those cleaning tasks I often overlook as well as kept me accountable with general cleaning of the house without feeling like I am doing a ton of work!
I admit to often looking ahead on the app to see what chores and tasks were up coming. It made it easier to assign to my children or adapt & customize to our schedule (sometimes we'd do 2 days worth of work so we could skip a day due to our schedules). As you can see from my print screens above, the assigned chores for each day really don't take much time at all to accomplish which makes it easy to fit into an already busy schedule. Also, if you prefer to glance at the chores organized by room, you have the option of setting it up like that as well.
Another benefit to this app is if you are wanting to read through the Bible in a year, it tells you what verses to read each day to accomplish this goal! This feature can be hidden though if you choose.
If you don't have a tablet or smartphone, no worries as you can print out Motivated Moms schedule to place in your own binder! There are many different size & layout options to printing that you can choose. While I didn't review the printed version, others on the Schoolhouse Review Crew did and you can check out their reviews in the link below.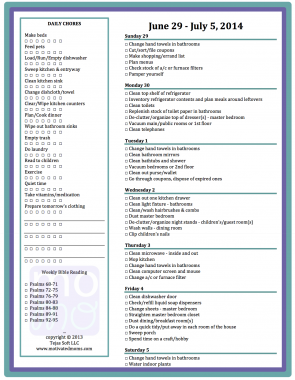 Bottom line, if you are looking for an easy house cleaning schedule that is actually doable and won't overwhelm you, you would enjoy using
Motivated Moms
!
The
iOS app planner
is $7.99 a year or $.99 a month, available for all apple devices as well as android devices.