It isn't very often we get to try out a product that is new and hadn't even hit the homeschool market until now! Enter
Spelling You See
that we had the privilege of reviewing from the Demme Learning company which is local to me in Lititz PA. This is also the same company who published the popular
Math-U-See
curriculum! We've had recent success with Math-U-See so we were excited to try out their brand new spelling curriculum! Hannah happened to be the lucky one who received
Level E-American Spirit
.
Spelling You See has a unique approach in how they teach spelling. This is not a boring, memorize a list of words then test, curriculum! This curriculum was founded by Dr. Karen Holinga, who has 30 years experience as a reading specialist. This spelling curriculum is not divided by grade but by levels and designed to go at the pace of a student. This philosophy follows 5 developmental stages of spelling:
-Preliterate
-Phonetic
-Skill Development
-Word Extensions
-Derivational Constancy
How this works:
To figure out what level to place your elementary student, you can follow this
placement guide
. Following this, it showed me that Hannah would be placed in their top level that is currently available, American Spirit. There are 5 levels available with 2 more in the works:
A- Listen and Write
B- Jack and Jill
C-Wild Tales
D-Americana
E-American Spirit
Coming Soon:
F: Ancient Achievements
G: Modern Milestones
This curriculum is divided into 36 weekly lessons spread out through 2 student workbooks consisting of 5 lessons a week. Each lesson takes no more than 10-15 minutes. The key to this curriculum is that the parent sits with the child to do each lesson. At the beginning of the week, you read the passage to your child then help them "chunk" the vowels and consonant pairs using colored pencils (meaning you color the pairs such as ea, ee, ie, ch, ph th, etc). They also practice writing the passage daily. This helps the student visualize sound patterns, making them recognizable. You will do this for the first 3 lessons of the week. The last 2 lessons of the week involve you dictating the passage to your child for them to write down what you read to them. On day 4 you will help them with punctuation and spelling but the 5th day is sort of a "test" day in letting your child write the dictation completely on their own.
What makes this curriculums approach unique is that they bring together a visual, audio & physical learning experience in helping to learn spelling. And not only is spelling taught but handwriting is also practiced as is reading skills honed since they read the passage along with their parent! This also helps by writing daily the same passage to implant the words and their meanings.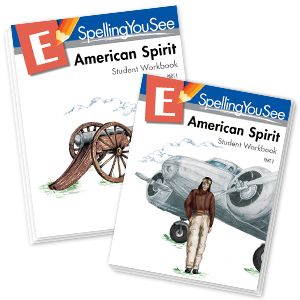 How we used it:
I read over the instructor's handbook before starting to learn how to really use this curriculum to the fullest potential. While you could possibly use this curriculum with just the student books, there is a lot of great info in the handbook as well as a special code to access online videos & content. So I would recommend purchasing the handbook to make sure you know how to best use this curriculum to the max!
Each day, I sat down with Hannah and followed the guided schedule. She is a pretty good reader so we would read the passage together rather than the guidelines of me reading it to her. Then she used the colored pencils that came with the curriculum to chunk the vowel & consonant blends. After that, she would do the writing that was required for each day. Each days lessons were contained in a 2 page layout, one on the left & right, so no page flipping was needed.
We enjoyed the fact that the daily readings were tied into factual American history (which is what she has been studying this year for history). So not only was she learning spelling, she was also learning tidbits of history, practicing handwriting and reading all in just 10-15 minutes a day!
Each level contains 2 student books with the option of purchasing an instructor's handbook. Level E- American Spirit, which we reviewed is available for purchase at $30 for the student workbooks & $14 for the instructor's handbook. While there is no exact age or grade levels, this curriculum is for elementary ages or to be used as remedial work for older students who need to work on their spelling skills.