My 3 year old has really been wanting to "do school" lately like her older siblings so we were excited to have the chance recently to review Preschool Curriculum from La La Logic.
What it is
La La Logic is a 100 week preschool curriculum for ages 3-6 that uses a combination of online games, printable worksheets and extension activities. Unlike most curriculum, La La Logic doesn't focus on teaching specific subjects but rather they work on critical thinking skills as well as problem solving skills. It's a progressive curriculum which means no matter what age the child is that is using it, they will all start at the beginning of the program.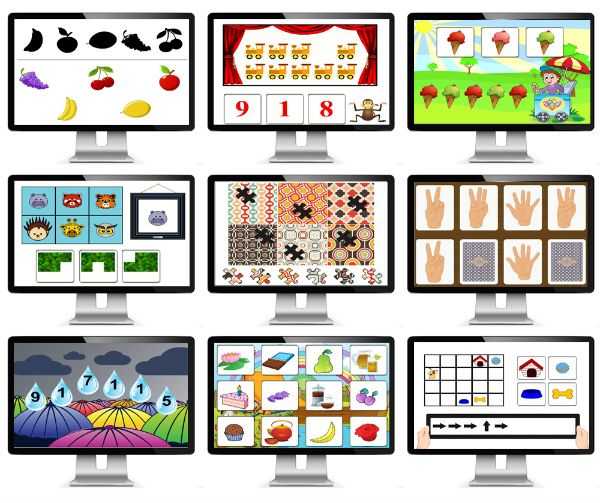 The online part of the program is called "Brain Challenges". Each weeks lesson involves some fun games to work on the child's cognitive skills. The games are colorful and give spoken directions. While playing these games, they help reinforce colors, numbers and shapes.
Each weeks lesson includes a downloadable worksheet that you can print off for your child to complete. This ties in with whatever skill that are learning that week.
The third part of this curriculum is the extension activities. Each week you are given enrichment activities to do with your child. This could be games using objects around your house, scavenger hunts, word games, copy work just to name a few examples.
How to use it
One of my favorite aspects of this curriculum is that everything is already laid out and planned for you, perfect for this busy mom! After purchasing this program, which is only a $29 fee one time per family, you then login to set up your children's accounts. Yes, you can use this for more than one child. They each will have their own name to click on which keeps track of where each of them are at.
After setting up the child's account, you then click on the curriculum button to start week 1. From there, the page shows what the goals and agenda is for that week. The brain challenge part will list what type of skills the games will be focusing on (as well as the button to click start for the online games). Below that is a weekly schedule of what activities to do on what day. Each lesson gives activities for Monday thru Friday. You then have a download button that allows you to download the weekly schedule, the printable page for that week as well as the enrichment activity.
Another neat feature of this program is the ability to make notes each week about how your child did on that lesson or maybe to record what they thought of a specific game or skill they learned. You can either makes the notes right on the computer or there is space on the downloadable worksheet to do this.
Once your child completes that weeks lesson, you then check mark the box that that week was completed. Overall, each days lesson only takes 10-20 minutes each.
How we used it
At the beginning of each week, I looked over what that weeks lesson would involve and printed out the worksheet that we would need. Olivia and I sat down together to do the first days online games together (which was on Mondays). She typically didn't need much assistance from me as the directions were easy to follow. There was also a button to click if she needed to hear the directions read again.
As she completed each game, it went on to the next game until she completed them all. It then takes you back to the weekly lesson page. After completing the first days set of games, you also have the ability to click on extra practice. This area allows you to pick specific skills you want your child to practice with as well as learning numbers.
There is also an option called continuous brain challenge. This basically opens up all the games in order for the whole program and won't stop until you exit out of it.
Tuesday and Thursday were the enrichment activity day. Again, these varied by weeks. Just as an example of week 3, we discussed emotions and made faces next to the emotions. Then we looked into a mirror to make the facial expressions that went along with the emotions we talked about. On the second enrichment day of this week, I gave Olivia some scenarios to which she then was supposed to tell me what emotion she would feel (for example, if you spilled your milk, she then said she'd be sad).
Wednesdays are the day the worksheets are completed. I appreciated the fact that the worksheets we've printed off thus far have been in black and white which helps save printer ink! Each worksheet has the directions on the page so you know exactly what to tell your child to do. Usually there is a question on the page for the child to answer to further work on their critical thinking skills. Olivia loves doing worksheets so she always enjoyed this part. Sometimes she'd ask if I could print out the page again later in the week for her to do again. And of course, she often asked to do the brain challenge more than the 3 times a week that the lesson had listed.
Overall, we have really enjoyed this program. I love how they are focusing on critical thinking skills but they are also continuing to learn their letters, numbers, colors and shapes while doing these activities. They have a good balance of using the computer, worksheets and hands on activities, all which keeps the child's attention and engaged. It's a very straight forward program to use. We plan to continue this with Olivia and when her younger sister is old enough, she will also use it.
Connect with La La Logic on Facebook.