My 8th grade son really enjoys learning about history, especially American History. He finished his history curriculum early this year. Right about the time he finished it, we were give the chance to try out The Story of the Thirteen Colonies & the Great Republic Set from Memoria Press. They also included 200 Questions About American History Set.
Memoria Press is a Christian based company providing classic curriculum for both private and homeschools. They offer a wide variety of subjects for kindergarten through 12th grade. We've used several of their curriculum's in the past and have always enjoyed what we used. This American History curriculum has been no different!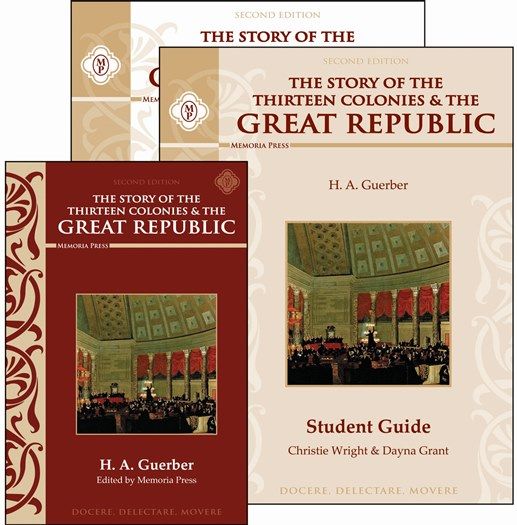 The Story of the Thirteen Colonies & the Great Republic Set includes 3 softcover textbooks:
H.A.Guerber
H.A. Guerber Student Guide
H.A. Guerber Teacher Guide
The 200 Questions About American History Set includes:
Student Book
Teacher Guide
Flashcards
This American History curriculum covers history as far back as Columbus before this land became American all the way through the Spanish-American War. It is broken up into 32 lessons, with the lesson being 2 pages long. Each lesson covers:
Facts to know
Vocabulary
Comprehension questions
Enrichment section (this includes map work, timeline, research, composition, Thirteen colonies chart, etc)
The accompanying teachers guide is laid out just like the student except it has all the answers filled in. Since it looks just like the student text, it makes it easy to quickly check the answers. The student book also includes extras in the back such as the Gettysburg Address, the Constitution & Amendments, Paul Revere's Ride, etc.
Click on photo for a larger image
The 200 Questions About American History is a nice supplement to The Story of the Thirteen Colonies & The Great Republic Set. There is a schedule laid out in the beginning of the book that covers 32 weeks of lessons, followed by a review & final exam. It lists exactly what reading selections are to be read each week either from Grueber or Story of the World. It also states which drill questions, timeline, quotes or presidents need to be completed. As a busy mom, I appreciate having all the leg work done for me so all we have to do is open the book and go!
The flashcard set comes in handy for extra practice in reviewing the 200 questions from the book. They are broken down into the following sections:
150 Drill Questions
30 Timeline Dates
20 Notable Quotes
44 U.S Presidents
The H.A. Guerber is 211 pages long. There are approximately 3 chapters to read to go along with each lesson. The chapters are short (1-2 pages typically) and also have black and white photos scattered throughout. We found it was an easy yet interesting read.
This history curriculum is geared towards grades 5-8. It is suggested the student read aloud the book but my son typically curled up on the couch and read it to himself. While he did 1 lesson a week like the schedule suggested, he usually did all the work within 2-3 days. He said he liked to keep what he read fresh in his memory so he would take a chunk of time to get the work completed in a shorter time rather than stretch it out over the week.
The flashcards were a great way to practice what he learned each week and also a good way to continue to build on week after week. We felt all the information being presented each week thoroughly covered each topic. There is a bit of writing involved with the comprehension questions and I did find my son didn't always give complete sentences in writing. Sometimes I would verbally ask him to expound on his answer if he didn't want to write it all out.
Once again, we were pleased with yet another wonderful curriculum from Memoria Press!
Connect with Memoria Press: