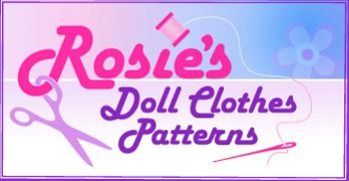 When I was younger, I inherited my great grandma's sewing machine & taught myself to sew. Fast forward to when I had my own kids, many times I made matching dresses for my girls when they were little. Now that life has gotten busier, I haven't had the time to sew like I used to.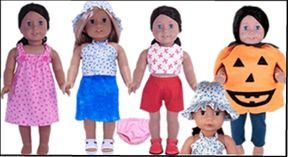 How to sew doll clothes course is an online video course founded by a fellow mom named Rosie. Her daughter wanted doll clothes and she hated seeing how much they cost in the store so she set out to make her own. Even though she had been sewing since she was little, she found sewing doll clothes was much different than making adult clothes. Hence, her video course was born so others could learn the simple techniques of making their own doll clothes.
This course is 6 weeks long and contains over 130 videos showing you everything you need to know about sewing. From setting up your sewing area, to how to create a straight & zig-zag stitch, to how to create a casing as well as lots of other tips & tricks; complete all the way up until you have a finished article of doll clothing. The videos are very short & broken down into small steps. Rosie herself narrates and physically shows you how to do everything as she does it, step by step. She also includes tips on serging for those who have a serger.
Also included were 8 free PDF patterns we could download & print out. In addition, to each pattern, Rosie also has a video to go along with each one showing step by step how to complete the whole project. The directions are also available to print out. She also has other patterns on her website available for purchase that also include a video to go along with.
All 3 of my girls watched the videos, a few they skipped over as they had already had experience in some of the areas (and we don't own a serger so those didn't apply to use). Once they felt confident that they could try out one of the patterns, we picked up some inexpensive material (walmart had a bunch for only $1 a yard). Since the dolls clothes don't take up much material, you could easily use scrap pieces you have sitting around.
We printed out the pattern which was easy to do. I made sure my printer was NOT selected "print to fit" as I had read this could alter the size of the pattern. The pattern actually has a measurement on it that you can measure to make sure it printed correctly. My one daughter decided she was going to be the one to make the first outfit, a summer nightie.
She used the kitchen table to cut out the material and had the computer right by her to follow the directions.
When she was ready to sew, she took the computer down to the sewing machine with all the supplies she needed.
All Rosie's pattern that she included for free are for an 18" doll like American Girl dolls which we don't own so we tweaked the above outfit for this doll. After doing this, I saw on her website she offers to send you the cabbage patch doll pattern for free of charge if you prefer that instead of the 18" one.
This was a great course that had very easy to follow instructions. My girls plan to make the rest of the included doll clothes patterns. It would also be a great way for them to make inexpensive gifts or once they get good enough, sell them to earn some spending money!