If you are a parent to young children, you know how messy paints can be. But
The Pencil Grip, Inc.
has come up with an awesome product that won't make you want to pull your hair out when it comes to letting your child express their artistic side! Imagine if you mixed paint with the form of a glue stick and that is what these no mess paint sticks are like.
Last year,
I had the chance to try out the
Kwik Stix 12 pk
. This time the kids and I reviewed the
Kwik Stix Metalix 6pk
and
the Kwik Stix Neons 6pk
.
These solid, tempura paints are ready to use right from the box! The look like huge tubes of chapstick and work the same way. You simply take off the cap, twist the bottom to push some of the paint up and away you go. The best part is that the paint dries in 90 seconds! You don't need paintbrushes, water or smocks. If your child happens to miss their paper and draw on the table or their arms, the paint wipes up easily with some water. (HA ask me how I know this!)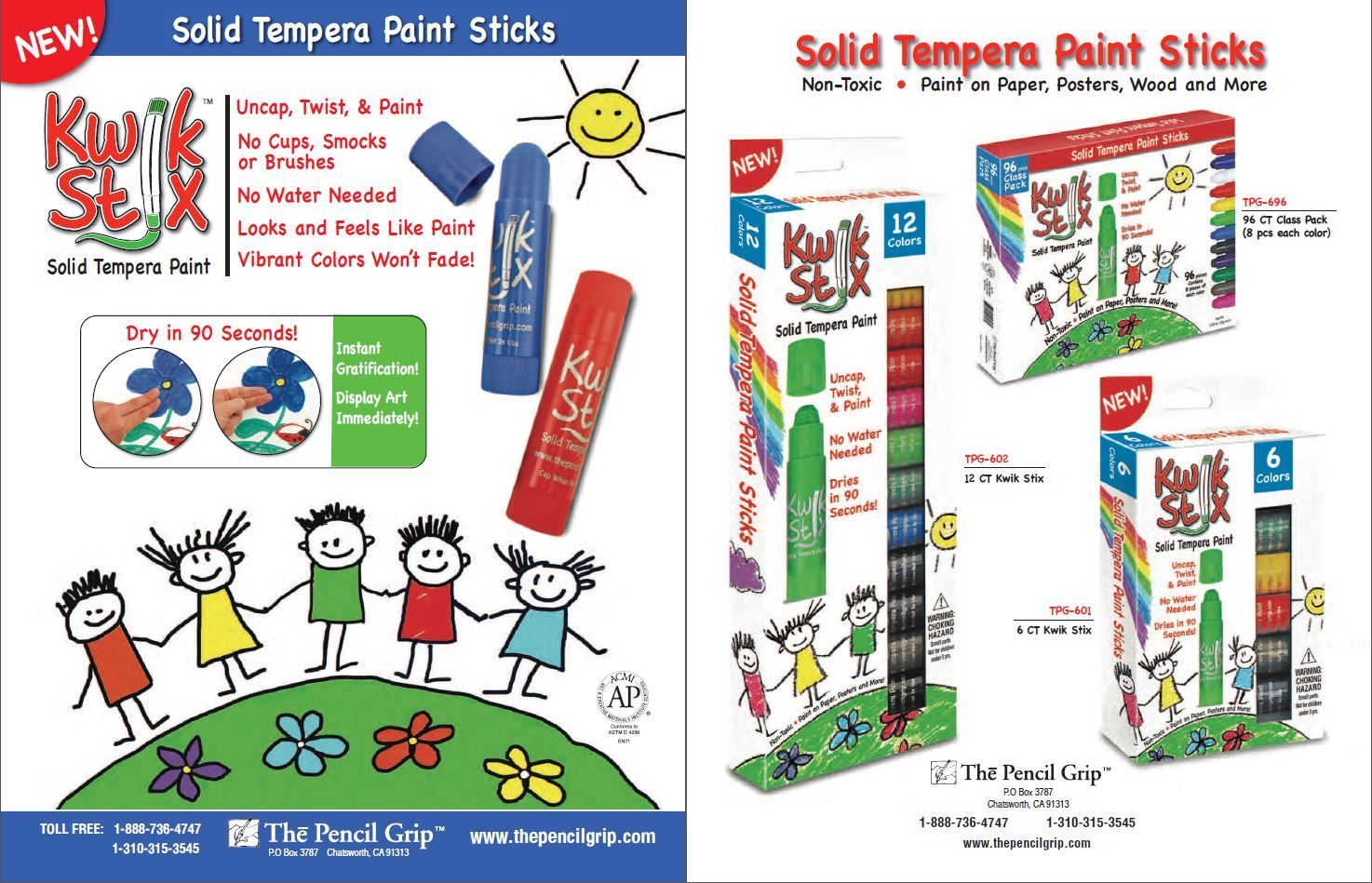 The 3 packs of
Kwik Stix
we've tried are all vibrant colors. The Metalix colors even have added sparkles to them which we liked. The paints can be used on poster board, wood, paper, and canvas. My preschoolers love making pictures on paper. The tubes are a perfect chunky size that makes it easy for little hands to hold.
We decided to try out the paints on wood to see how the colors looked and to see if the paint went on the wood as easy as it does the paper.
Some of my big kiddos even picked out a wood piece from Wal-mart to try it out with the preschoolers.
We thought the Kwik Stix worked great on the wood projects! The paint rolled on just as easy and smooth as it does on paper.
Bet ya can't guess which one my 2 year old painted!
These no mess art supplies are great for Sunday school classes or even preschool co-op classes. Once a week my older children had co-op, so I had to have activities along to do to entertain my preschoolers and these were a perfect fit. They travel well since you don't need additional water or supplies. My friends preschoolers enjoyed our paints so much that she even bought a set for her boys!
Another idea The Pencil Grip, Inc. gave us of a way to use these paints were to use them to decorate Easter eggs. So of course we had to try that out.
You can see the paints went on the eggs pretty well! This would be SO much easier for preschoolers to decorate eggs instead of the messy dyes.
The
Kwik Stix
are a huge hit in our house! Before we had these, any time my preschoolers asked to do art projects, I tried to redirect them as I didn't want the mess to deal with. Now they can easily paint without needing my supervision and I know I won't find a huge mess to clean up!
In addition to the
Kwik Stix
, this company also has an assortment of
Pencil Grips
. These can be placed on pens, pencils and even crayons. They offer several different kinds of grips and even have some
free downloads
that will help you figure out which grip your child needs as well as how to correctly use it.
Connect with Kwik Stix: