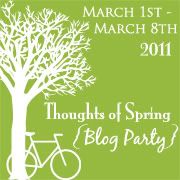 March 1st, one step closer to spring! In honor of that, I am linking up with Lynette over at Dancing Barefoot and participating in a blog party for the week. Who doesn't like a party?! Granted, I guess if I want some munchies, I'm on my own for that one! (and this prego chick sure could use a snack about now!) She's given a list of questions we can answer so others can get to know us better. I figure along with my regular blog ideas I'll also answer a few of those questions just to change things up.
For those who are stopping by for the first time, a quick intro:
My name is Jenn, married to Kevin for 12yrs & I'm a homeschooling mom to our 5 (soon-to-be 6 kiddos) in Pennsylvania. I started this blog almost a year ago when our son was diagnosed with Trisomy 13 in my 33rd week of pregnancy. I wanted a way to share with others what we are going through in hopes that God would use our lives & Noah's story for His purpose. My blog has often shared our raw emotions as we go through this grieving process as well as my random thoughts & a glimpse into our everyday lives (like our 13 day cruise we went on just a few months ago starting Nov 28th). I love to garden, be in the kitchen cooking & baking and reading when I get the chance.
Now onto a few of Lynette's questions.....
What celebrity/celebrities would create a "Star-Struck" feeling if you saw them in real life?
-I'd say Johnny Depp BUT only dressed as Captain Jack Sparrow. A little weird? Perhaps, but I find his character a lot more visually appealing than himself in real life! LOL Gotta love a guy that can pull off the eyeliner so well! haha
If you could live anywhere at all (and take all your loved ones with you), where would you go?
- I would say anywhere in the southern Caribbean. Where it's nice and warm all year round, clear blue oceans to swim in.....yup, island life would be great! Here's a pic I took while in the Dominican Republic when we were there 3 months ago.....
Ok because I can't resist (and I'm seriously wishing I was here about now), here's one from Antigua I snapped this past December after Kevin & the kids were goofing off. See, who needs snow, you can make sandmen instead of snowmen!! LOL
What is your comfort food/drink?
-This is a hard one. Those that know me know I am not a big eater nor do I usually eat junk food either. I love about anything (except liver, YUCK!) and will always try something once. Being pregnant, I often can't even figure out WHAT to even eat most times and usually don't crave anythng. But as I was writing this, it struck me......SUSHI!!! Oh yeah with lots of wasabi! (I love spicy food). I have even eaten it for breakfast. Great, now that I wrote it I want some!!! UGH too bad there isn't a place close by or I would be getting
myself
the baby some! (hint hint dear! haha j/k)
Well, I think I will stop there for now with answering random questions. I do want to share a picture of this beautiful necklace my dear friend Jen recently gave me. She had it custom made with Noah's actual footprints!!! ♥ I tried to avoid the glare while taking the picture but it says "fearfully & wonderfully made". Then it has his name and birthday. I love it!
Ending with a quote I found earlier today-"Some of the best things in life: Faith in God, friends that stay through your worst, courage to face a hard day, hope for a better tomorrow."