What do your kids say when it's time to pull out their writing curriculum? A few of my children haven't been entirely thrilled at times with theirs and I admittedly find myself wanting to hide their books to save on the headache of trying to teach some of the concepts to them. BUT that has all changed my friends after we were recently introduced to
Essentials in Writing
and asked to review the
7th grade level.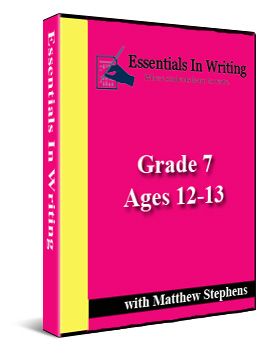 Since my oldest 3 girls are only a grade apart (6th & 7th grade), they all do the same level of writing so they had the privilege of being the ones to review this curriculum. We aren't strangers to the world of writing & have tried a few things over the years. When we were asked to try out this program, we were immediately intrigued from what we saw on the
sample video
.
We received 3 DVD's that contained 53 video lessons with 15 optional grammar lessons. The course covers 120-130 days of lessons (or more if you included the grammar). Also included with this program is a PDF file download of all the workbook pages that accompany the videos. If you didn't want to print them out yourself, you also have the option of buying a
pre-printed
workbook of all the pages for $20.
A few of the topics that are covered & listed in the 7th grade
syllabus
are:
-compound sentences
-prepositions & prepositionl phrases
-formal paragraph structure
-using imagery in writing
-writing a personal narrative
-persuasive business letter
-compare/contrast essay
And SO much more!!!
Each lesson is taught by the founder of this program, Matthew Stephens, who has taught English in public middle school before developing this program. The videos were short, lasting about 5-10 minutes each. In each video, he gave a brief lesson that made it easy to grasp each concept and wasn't overwhelming to understand. After each video, there was at least 1 page, sometimes more than one, of workbook pages to complete. Each workbook page was clearly marked with what lesson it corresponded with, making it easy to know what to print out. The pages were also broken down with not only the lesson number, but an "a,b, or c" to further break up the pages to spread them out over several days of work.
Before each lesson, I printed out the corresponding worksheets to look over with my girls. Then they sat down together either by the laptop or tv to watch the lessons. My girls have thoroughly enjoyed this program which says a lot after the several different ones they've tried over the years. They said that watching Mr. Stephens explain & demonstrate concepts on the white board help them to better understand what he was teaching.
They have actually asked to do more than the required work at times because they are finally enjoying the writing process. The grammar portions of the DVD were straight-forward and not confusing in the least. Once we reached the personal narrative writing, the first big writing assignment, we were all impressed at how simple everything was broken down into small steps to complete. They didn't feel overwhelmed having to do it all at one time and could focus on each step thus better understanding what was involved & required of them to complete.
And the other great thing with this program, if they had any difficulty in completing their workbook pages, especially the ones where they'd watch a video then spend several days completing the paperwork, they could easily pop the video back in and re-watch it again.
I also liked the fact that once you purchased the DVD, you could easily pass it down to younger siblings, thus saving money. In fact, we liked this program so much, this is what we are switching everyone to next year for writing.
As a side note, my girls recently spent the night at their friends house who is also homeschooled. After they chatted about curriculum with their friends mom and mentioning EIW, she is now looking to switch her girls to it as well, partly from their rave reviews and partly from what she has seen on the
website.
This program truly is that great (and makes it easy on mom to implement as there isn't much work required from us!)
The
7th grade
curriculum is only $40 for the full year of DVD's. They also have grades 1-12 as well.