When you have a large family, music lessons can get expensive not to mention it can involve a lot of extra running around taking kids to lessons. We were recently given
Adventus
to review & prior to this, I hadn't heard about it but soon fell in love as you'll see why. It's a perfect, affordable fit for a large family. This is a multi-level piano program for beginners to intermediate students, ages 4-adult, containing 7 years worth of lessons. We were given the
homeschool
version and for my kids, we focused on levels
Childrens Music Journey 1 & 2 (CMJ1 & 2)
.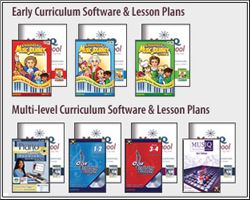 I myself have been playing piano since I was 10 years old. While I've been able to teach my kids how to read music and some basic music skills, I haven't had time to really get into the nitty gritty of music lessons despite owning a full size piano. But the beauty of this program is, even if you as a parent have never learned any instruments or lack music skills, you can still use this in your homeschooling!!
I'm sure your wondering how in the world does this work? The basics are you need a midi compatible keyboard that you can hook up to your computer (and if you don't own one, Adventus
sells them
). From there, you can decide if you'd like the
full software
that you can buy as a bundle or individual levels that come as a CD or if you'd prefer the
monthly subscription
which is only $10.95 a month for ALL your kids to take lessons. Seriously, you can't even get 30 minutes of lessons for one child for that let alone unlimited monthly access for numerous children!
Once you have your keyboard & access to whichever subscription you prefer, it's only a matter of hooking up your keyboard to your computer, which we did via USB.
All 4 of my older kids have been using this program. The program allows you to set up a profile for each child, which consists of a name & password on whichever levels you are using. Erik used CMJ1 and the 3 girls CMJ2.
When they log in, they are introduced to one of the famous composers who is their "teacher" for several lessons (then it moves on to a new composer). They listen to a short piece of their music and learn about some of the history behind the song or the composer. I love how this program incorporates many aspects of music, not just actual teaching.
From there, they go onto the lesson. As they are instructed to practice, the teacher gives them immediate feedback (which is why it's hooked up to the computer, brilliant!) If they hit a wrong key, they are told to "be careful" and they try it again. They are also given positive feedback for doing well. There is a woodpecker that acts as a metronome to help them learn to keep time.
The notes also light up as they play them. My kids have learned correct hand positioning from the beginning based off of middle C (and creating an "ant tunnel").
The lesson lasts about 10 minutes. From there, they can go into another area of the program to practice what they just learned by visiting "Miss Melody". Here they get the chance to spend more time reviewing what they learned in the lesson. There is also a game section, library as well as an improvisation room (where they can make & play their own music) but honestly, my kids have just loved doing the lessons & practicing that they have spent most of their time in those 2 places the most out of all 5 rooms.
I have been seriously impressed with this curriculum and how much my kids have learned in a short time. They enjoy practicing and not once have I had to remind them it's time for a lesson as the lessons are so engaging & keep their attention. They've been doing more of the lessons then I had required of them to. In fact, after practicing awhile on the keyboard, I've noticed them going over to the piano to try out there what they've learned. We plan to continue using this until they master all the levels.
If this in any way interest you, I'd encourage you to peruse
the website
as there is so much info there it's impossible for me to cover it all. There are also
lesson plans
you can buy to go along with the lessons. These are awesome as well. They include worksheets you can print out for the students to fill in to go along with what they are learning as well as other suggestions of things to teach & review (even coloring pages for the younger students). I was able to download these to our iPad for easy reference.