For the past few weeks, Olivia has had the chance to practice her reading readiness skills using Complete Home Learning Suite from Essential Skills Advantage.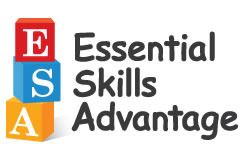 Essential Skills Advantage (or ESA) is an online skills practice program for grades Kindergarten through 6th grade. The program covers Reading, Language & Grammar, Math, Science and Geography. This supplemental program has over 14,000 online lessons to help students practice and reinforce basic skills. The lessons are self-paced, allowing the student to complete different subjects however they choose. ESA can be used by a single student or up to 10 students at the same time and can be used on the computer or any mobile device such as a kindle or iPad. Each child has their own login. You can choose to set them up with a password or not.
Each grade level and each subject offers a variety of games and activities to help the students practice skills. ESA offers monthly and yearly subscriptions. They also provide a section for parents where they can monitor the students progress. The report shows the parents the percentage their child scored in each section as well as how much they have completed in each section. The report also shows how much time they have spent on each section. There is also a place where the parent can print out a certificate of completion as the student finishes each section.
We used the Kindergarten level for Olivia and mainly practiced in the Reading and Language & Grammar sections. One thing I noticed while working with Olivia on her activities is that this program didn't teach concepts but rather allowed the student to practice skills they had previously learned elsewhere. Since technically Olivia would only be starting Kindergarten this coming fall, there are things she hasn't learned yet therefore we weren't able to use some of the sections of ESA yet.
It was easy for me to go in and set up Olivia's account. When she goes to log in, she just has to click on "sign in" by her name. Once she signs in, the page listing all the subjects is next. She can either click on a subject then choose the correct grade level or go to the top of the screen and use the drop down menu to choose the grade and subject.
Once you select the subject and grade level, you then see a menu that shows different practice skills as well as how many lessons are in each skill set. There is also a green bar that shows how much the student has completed under that unit.
From there, you select which skill set to practice and the student is brought to a screen of activities. There are verbal instructions that tell the student what they need to do to complete the activity. If they need the instructions read again, there is an icon to click on. As the student completes each screen, a star lights up on the bottom to show their progress.
If the student selects the correct answer, a chime sounds. If they choose a wrong answer, you hear a buzz. In the sections we worked on, if Olivia got the wrong answer, it never told her what the correct answer was. This is something I would change with the program. I would've liked to have seen the right answer given.
Essential Skills Advantage is visually attractive for the students to help keep their attention without overwhelming them with a busy screen. I liked the fact that we could access it on mobile devices which came in handy if I needed something for Olivia to do while out of the house (such as in the waiting room of the doctors office). Olivia enjoyed using ESA and we plan to continue using it to supplement our homeschooling.
Connect with Essential Skills Advantage:
Facebook
Twitter
Pinterest
Blog