Do you have a young child interested in music and learning to play piano but not sure where to start? Well, there's an app for that!
Kinderbach
is a piano program for ages 3-7 that offers both an
online
program as well as an
School Version App
for the iPad/iPhone. We had the privilege of reviewing the app for the iPad.
The app contains 3 levels with each level consisting of 10 lessons. In each lesson you have an introductory video, then 4 separate videos. All together, you have a years worth of music lessons. Before you click on each lesson, there is a summary of what that lesson will cover. We liked how the concepts were broken down into simple, concise lessons. The videos were short enough where my kids didn't lose interest in watching them. Karri (seen below) and her animal friends like Dodi the Donkey were very engaging and made the lessons fun.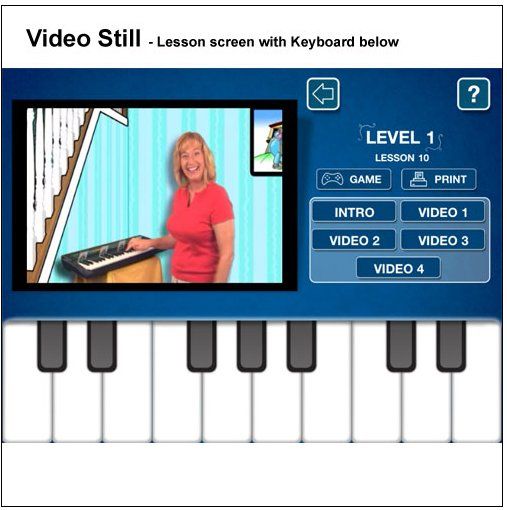 Also from this screen, you have the ability to play the game that goes along with the lesson (there are 6 games in total for the app and each gets increasingly a bit more challenging). You also can print out any worksheets that coincide with this lesson if you have an AirPrint supported wireless printer. If you don't, you do have the option to buy the
PDF files
to print. Being that my kids were a bit outside of the age range, they chose not to do the printables as they felt they were geared toward the younger age crowd. But what they sometimes did instead, was take the iPad to our piano, and instead of using the onscreen keyboard, they'd follow along directly on our piano. I though that was pretty creative and gave them a realistic way to apply the lessons.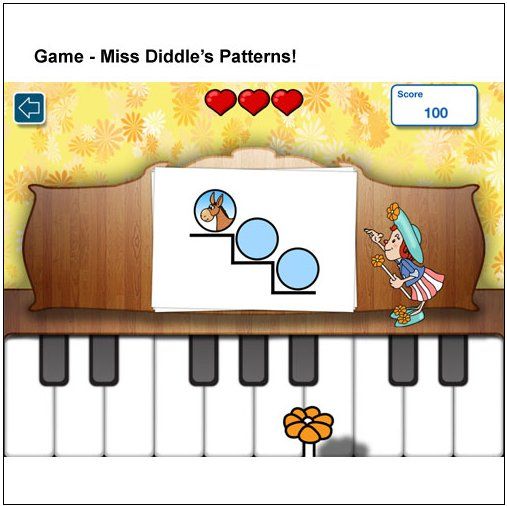 One thing I want to add about the videos, you need to be connected to wifi to download the videos the first time to watch. Once they are downloaded, you can watch them wherever. Not a huge deal if you are at home. If you plan to take this on the go, it does take a little planning ahead to make sure you have the videos downloaded that you need. My kids enjoyed the portability of this program as we recently went on vacation and they enjoyed playing the games on the plane.
All in all, we were pleased with the app. The only change I would make is a way to go back in and pick up where you last left off at. If you didn't remember or make note of your last lesson, you'd have to try to figure out what you did before.
This app is
available for $26.99
with no further in app purchases needed. Remember, this is for a years worth of lessons and once you buy it, you have it forever to use with many kids. I believe I saw on their
Facebook
page that this coming Friday, the app will be majorly on sale! They also have a
free app
with the 1st game & 2 lessons you can try out.

As part of the TOS crew, I was provided this app at no cost to me in exchange for an honest review. All opinions are my own.