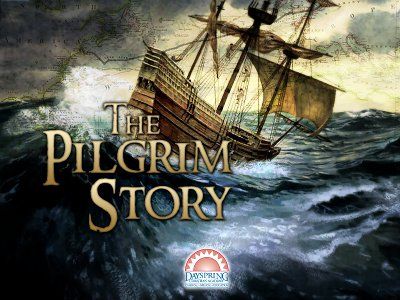 Dayspring Christian Academy
is no doubt a familiar name to my local followers as you know this is a Christian school in our area. So imagine my surprise when I was asked to review one their online courses called
The Pilgrim Story
. For those not familiar with Dayspring, they take the principal approach in their teaching which means they use the Bible as their central resource to equip students to have a biblical worldview.
The Pilgrim Story is an online, self paced course that consists of 5 units with a total of 17 lessons. The website stated this course was geared for grade 3-6 but at the beginning of the intro it stated grades 2-8. All my kids worked on this together (grade 4-7). We did 2 lessons a week as they can take about 45 minutes give or take to complete. There is also a lot of information to soak up as well as additional activities you can do. I also wanted to stretch this out to finish right before we celebrate Thanksgiving.
The course is made up of a multisensory approach containing colorful slideshow presentations while being narrated at the same time. That made Erik happy he didn't have to do a lot of reading! (though at times it was a lot of writing for him). The students have to click through each slide which keeps them from tuning out the lecture. At the beginning of each lesson, there are notebook pages you can print out to put in a 3 ring binder. During the slides, there are times when the student can fill in the blanks on the worksheets. These are highlighted on the slides with a pencil and the words underlined that they need to copy. This helped keep them engaged and retain the facts. There were also interactive questions throughout the course that required the students to click an answer before moving on. At the end of each unit there was an online test they could take or you could opt to do an offline essay instead.
This is a screen shot you see at the beginning of each lesson that lists the different activities you can download to print out. I love the options each lesson have (some of the later lessons have crafts and a recipe) but I would prefer to have the ability to download the pages for printing in one location or at least at the beginning of each unit instead of each individual lesson.
Overall, we have been learning a lot of new facts about the Pilgrims and their life that we've never heard elsewhere. This course definitely digs deep into their history, showing us how important the Bible was to the Pilgrims and all they went through in order to be able to worship freely. We've all found it enjoyable and are looking forward to the end of the course where we will take a virtual field trip to Plymouth, MA led by Mary Stauffer the creator of this course.
The Pilgrim Story
is $99 and will give you access within 48 hours after purchase. It is then available for 6 months after you purchase it.

As a member of the TOS crew, I was provided this course at no charge to me in exchange for an honest review. All opinions are my own.